Breaking news: It's hot out! It is finally time to stroll downtown and enjoy the sunshine and warm temps. So we thought we'd put together a list of our favorite patios in Longmont, CO.
We've included a little bit of everything: the local, the fancy, the neighborhood hangout, the staple, the brunch place, the bike shop, and the beer gardens. These lovely and diverse establishments are worth several visits. Get out there and perambulate the local patios!
Our Best Patios in Longmont! (In No Particular Order):

The Roost


526 Main St. Longmont, CO 80501



Happy Hour: 3 pm–6 pm, Sunday–Thursday
Open 11 am–9 pm, Sunday–Thursday; 11 am–10 pm, Friday & Saturday
There are so many things that make The Roost the best. They provide local food with sustainable practices. They give 10% of their profits to a non-profit that helps families in the process of adoption. They offer up delicious eats from six different types of smothered spuds to lamb ragu and shrimp & bacon mac. They're located right in downtown Longmont. But most importantly, their patio(s) is epic! There is a covered rooftop patio and bar, a rooftop events space, and another open-air patio on the main level. Stunning space, gorgeous views, yummy food & drinks, good company, excellent entertainment…make it there ASAP!
Looking for something elegant? Martini's Bistro is your "upscale eatery." Think craft cocktails while sitting in the open air on a residential street, in front of a historic, 1890s home—and you must start with a signature martini! Then, relax in the casual, yet fine-dining atmosphere. With local, American-style cuisine, and friendly service, you'll end up feeling both pampered and right at home. The food offers something for everyone, from P.E.I. mussels and crab cakes & scallops to bison meatballs and center-cut rib eye. And for the veggie lovers—roasted paprika cauliflower and seared chickpea cakes. Reserve a table for your next date night and impress the one you love.
In Longmont's historic Old Town, in the middle of a residential neighborhood, there's a wonderful little gastropub that will make you feel like a regular on your first visit. The patio: homey and magical, all at once. The cocktails: crafty and quenching. The beer: "uncommon." The food: pub staples with an artistic flair! It's the type of unique establishment where you could take a date for a special occasion or stop by on a walk with your dog, grab a drink, and get lost in conversation. And it seems like the patio molds to the needs of the crowd with heaters, a fire pit, and tents if necessary. Don't miss out on the camaraderie and craftsmanship of the West Side Tavern.



Pumphouse Brewery




540 Main Street, Longmont, CO 80501



Happy Hour: 3 pm–6 pm, Monday–Friday; 9 pm–Close, Nightly
Open 11 am–10 pm, Sunday–Thursday; 11 am–11 pm, Friday & Saturday
This Longmont favorite has been kickin' it local since 1996. The brewpub makes its own delicious beer that is almost only available on site. And they tout Longmont's largest outside dining area! With an outdoor bar (friendly dogs welcome!), heaters or misters for weather needs, and a central, downtown location, this is the perfect place to stroll to on a sunny afternoon or spend the nighttime hours watching the game or gabbing with friends. The food is good, too, with burgers and pub favorites, decadent salads, and a beer cheese soup. Stop by for happy hour and stay all night (if you're walking, of course)! Like an old friend, The Pumphouse is always there for you!
Back in 1980, the first Lucile's was opened. A family establishment, named after the owner's mother, the Longmont location is tucked into a pale-yellow home near downtown. And trust us, they serve up the most delicious Creole breakfast (and lunch) you've ever tasted. Start with the beignets…don't argue! You'll be delighted. It's a comfortable setting with wonderful, homey touches that make you feel warm and serene. And they also have a shady, little patio, perfect to enjoy a Cafe au Lait, bloody mary, or if you're feeling particularly sassy, a classic Sazerac. Yes, today is a good day to go to brunch—get over there!
Beer Gardens:
Longmont has a rich beer community with some awesome outdoor beer gardens. We couldn't name them all, but here are our favorites!
Established in 2015, creating and slinging American-influenced, German-style lagers. GIANT and diverse outdoor space, tons of events and food trucks, and water features, yes…we said water features.
Take a 28-year-old brewery making amazing beer that has become a Colorado staple, add lawn games, picnic tables, "grass," a stage, food trucks, wine & craft cocktails, what do you get? One heavenly beer garden!
Their focus is homemade and handcrafted (if you couldn't tell from the name!). Classic BBQ dishes, chef-inspired creations, 43 rotating taps, a large sunny patio with cornhole courts, twinkly lights, and good cheer!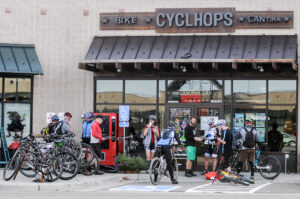 Honorable Mention: Cyclhops CANtina
600 S Airport Rd Longmont, CO 80503
Large patio with an indoor/outdoor bar top. 20 rotating craft beer taps, 43 premium tequilas, and traditional Mexican food, from "thoughtfully-sourced ingredients," with a delicious twist, and you can get your bike fixed!
So, go patio, why don't you!
There are so many beautiful spots to enjoy in Longmont, CO, and this list is the perfect place to start! Enjoy the warm weather at any of these esteemed establishments. And for more things to do around Longmont, check out some of our other suggestions, like exploring Longmont's Historic Districts.
And if you like these…
…why not live here? If you aren't already a proud Longmont resident, look at homes for sale in Longmont, CO, and join the community! Turner Realty is Longmont's oldest Real Estate company with top-rated Longmont Realtors®. Whether you are a first time home buyer or looking to downsize, you can trust our agent's expertise will make your purchase or sale go smoothly. And we don't just handle homes for sale, we can also help you with rentals and property management in Longmont!
Contact us today and find your perfect Longmont home!