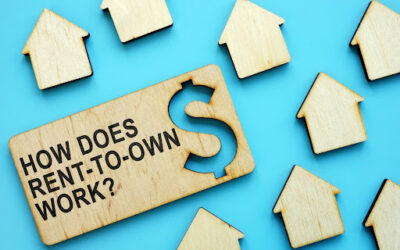 The housing market is terrifying before you're in it. Even more frightening lately! We don't blame first-time homebuyers for being gunshy. And though you'll realize there is absolutely nothing to be scared of, and that homeownership is immensely fulfilling, there are other options. 
Whether you're just not ready to jump into homeownership yet or your credit and job history aren't quite at the level to qualify for a mortgage, the rent-to-own home buying process could be the right move for you. But how does it all work?
What is rent-to-own?
A rent-to-own home agreement consists of a standard lease and an option to buy. You'll sign a lease for a certain amount of time (often up to five years), and at or before that lease is up, you'll have the option to purchase the property. 
There are two types of rent-to-own home agreements: lease-option contracts and lease-purchase contracts. A lease-option contract gives the renter the right to purchase the home when the lease expires. However, they can also walk away from the property if they wish. A lease-purchase contract requires that the renter purchase the property at or before the expiration of the lease. If you cannot or do not want to buy the house at that point, you risk litigation from the seller. 
How does it work?
First, you'll need to find a renter/seller that is interested in entering into a rent-to-own home contract. A good tactic is to find a buyer's agent or brokerage with a rent-to-own program. Then, find a home and neighborhood that you are excited about. 
Next, negotiate a contract. In those negotiations, you'll set the one-time option fee (option money, option consideration). This fee is often nonrefundable, but it might be applied to the final purchase price. Usually, the option fee is 1–5% of the purchase price of the home, but it can be up to 10%, so make sure to hammer out a good deal. You'll also decide who is responsible for repairs and maintenance: the renter or the landlord.
Another aspect of the contract you'll want to establish at this time is how the purchase price will be decided. It's ideal to have the amount locked down in case housing prices go up during the length of your lease. However, some contracts will require that the buyer and seller wait to decide on the price until the actual date of sale to reflect the market rates at that time. Or they may set the price at the start but inflate the amount, anticipating market growth. Regardless of when the price is set, it will usually be higher than the average market value.
Owning your first home is still a milestone in our lives and not many regret the achievement. However, in this day, many people are nervous to start the homebuying process. It seems like a huge undertaking and a 20% downpayment sounds untenable. 
Here we are going to give an overview of the home buying process to help alleviate some of your fear. Armed with a guide to home buying, you can approach your momentous purchase with familiarity and awareness.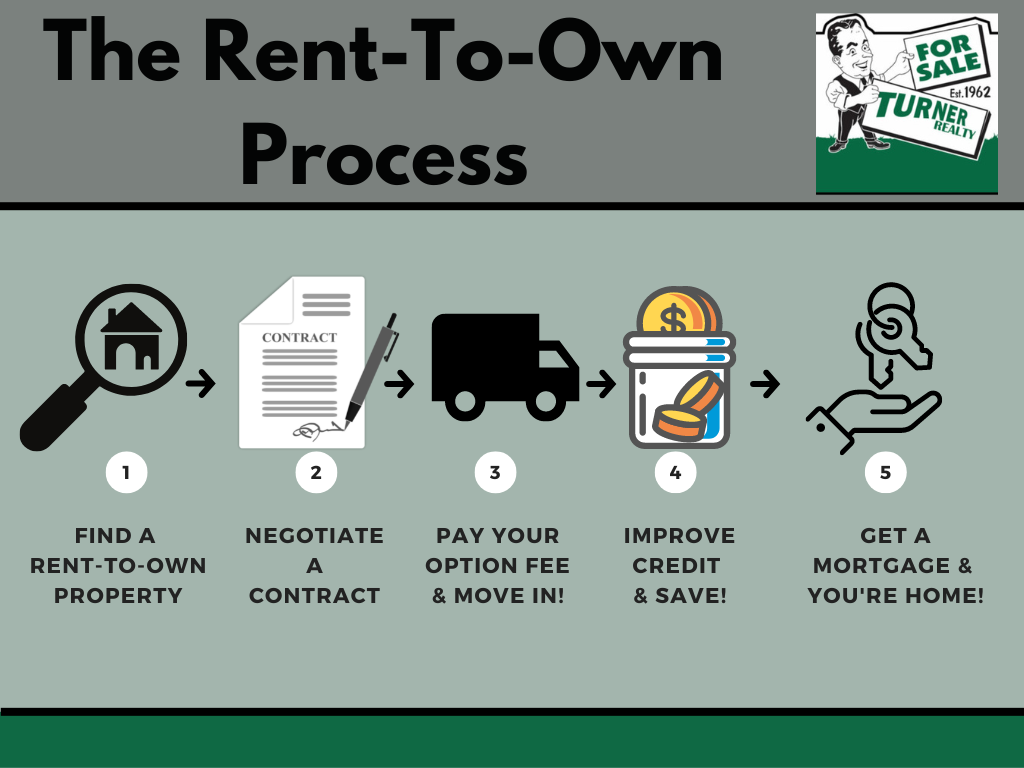 Some rent-to-own home agreements also allow you to put a percentage of your rent each month toward the purchase price. This is called a rent credit.
Once the contract is in place, you'll move in and begin working to improve your credit and save money for the downpayment on your mortgage. Make sure you can qualify for a loan during your rental period so as not to forfeit your claim to the house or risk litigation when the time comes to buy.
To finish the purchase of the house during or at the end of your lease, you'll most likely need to obtain a mortgage loan. Hopefully, you'll be able to apply the option fee and rent credit to your purchase as well. And now you're officially a homeowner!
If you had a lease-option contract and you decide you don't want to or are unable to purchase the house, you'll simply move out and forfeit the option fee and rent credit (in some cases you might be able to cash out the money you accrued!). If you have a lease-purchase agreement, you may be required to buy the home at the end of the lease and risk litigation if you can't or don't want to.
Who is it for?
Rent-to-own home contracts are ideal for people who may not be financially prepared to purchase a home. Maybe you can't yet qualify for a traditional loan. Perhaps your credit needs work or you haven't been able to save for the sizable downpayment required. A renter can work on improving their credit score and saving money while having the house locked down (no one else can buy out from under you in the meantime).
They are also good for people who aren't quite ready for the responsibility of buying a home. You will have time to work your way toward a mortgage. In the meantime, many of the rent-to-own contracts allow you to accrue equity and cash out at the end of the lease if you decide not to buy. 
What are the benefits?
The main benefit of a rent-to-own home is time. You've picked out a home you'd like to live in, but you're not financially prepared to purchase it immediately? You can get a rent-to-own contract for up to five years, and in that time, you can improve your credit, establish yourself at your job, and save money. When it comes time to finally apply for that mortgage, you'll be prepared! And you won't have to compete for the property as it's contractually yours.
Additionally, some agreements come with the option for rent credit and to apply your option fee at the time of sale. So as you are paying your rent, a percentage is going toward the purchase price and your equity. 
What are the drawbacks?
You're most likely going to be paying more for the property and more than your typical rent each month. This is the cost of the extra time you get to take before closing on the property. Further, some contracts will require the renter to maintain the property and foot the bill for repairs. This can be an unwanted expense, especially when you understand that often, a rent-to-own home agreement doesn't lead to actually buying the home. 
Also, a lease-property contract can leave you open to litigation if you aren't able to buy the home at the end of your lease. It is always best to go with a lease-option contract.
For the best experience
Buying a home should be one of those gleeful milestones in your life! Here are our suggestions to ensure you have a positive experience with your rent-to-own process.
Get a lease-option contract!

Hire a Real Estate attorney and negotiate your contract.

Always review the fine print before signing. Understand the maintenance agreements, rent credits, what constitutes a breach of contract, etc.

Ensure the seller is legitimate and financially stable.

Research the home and neighborhood to make sure this is where you want to be for the foreseeable future.

Get a home inspection, an independent appraisal, and make sure the property taxes are up to date.

Don't ever jump into a rent-to-own home contract! Do your due diligence.
Other Options for You
If a rent-to-own home is not for you, consider the many first time homeowner and downpayment assistance programs. Federal Housing Administration (FHA) loans have low down payments and closing costs, with more reasonable credit expectations. And programs like the Colorado Housing & Finance Authority (CHFA) have to offer can help to pay your down payment and closing costs. If you have the will, there is a way! 
We hope our blog has helped you understand that there's no need to fear the homebuying process. And when the time comes, the top-rated Longmont Realtors at Turner are ready to help! We handle houses for sale, as well as for rent all over Longmont and the surrounding area. Contact us today to start looking for your perfect piece of Longmont Co Real Estate!